Feature Overview
Support your team throughout the year with the mix of
feedback tools that's right for your organization.
1:1 Meetings
Regular meetings between manager and team member are the most effective way to keep teams engaged, to learn about issues and concerns, and to check in on personal growth targets.
Small Improvements helps employees prepare for and document their meetings.
Objectives
The place where employees document goals and track their progress over time, relying on immediate feedback as they work.
Changes are automatically relayed to the objective owner and their manager, and using our Slack integration encourages timely action and feedback.
Praise
If you want to recognize someone for a job well done, why wait?
With our tools, colleagues can share feedback with each other at any point! Flexible visibility options give them the chance to expand the conversation to whoever would benefit.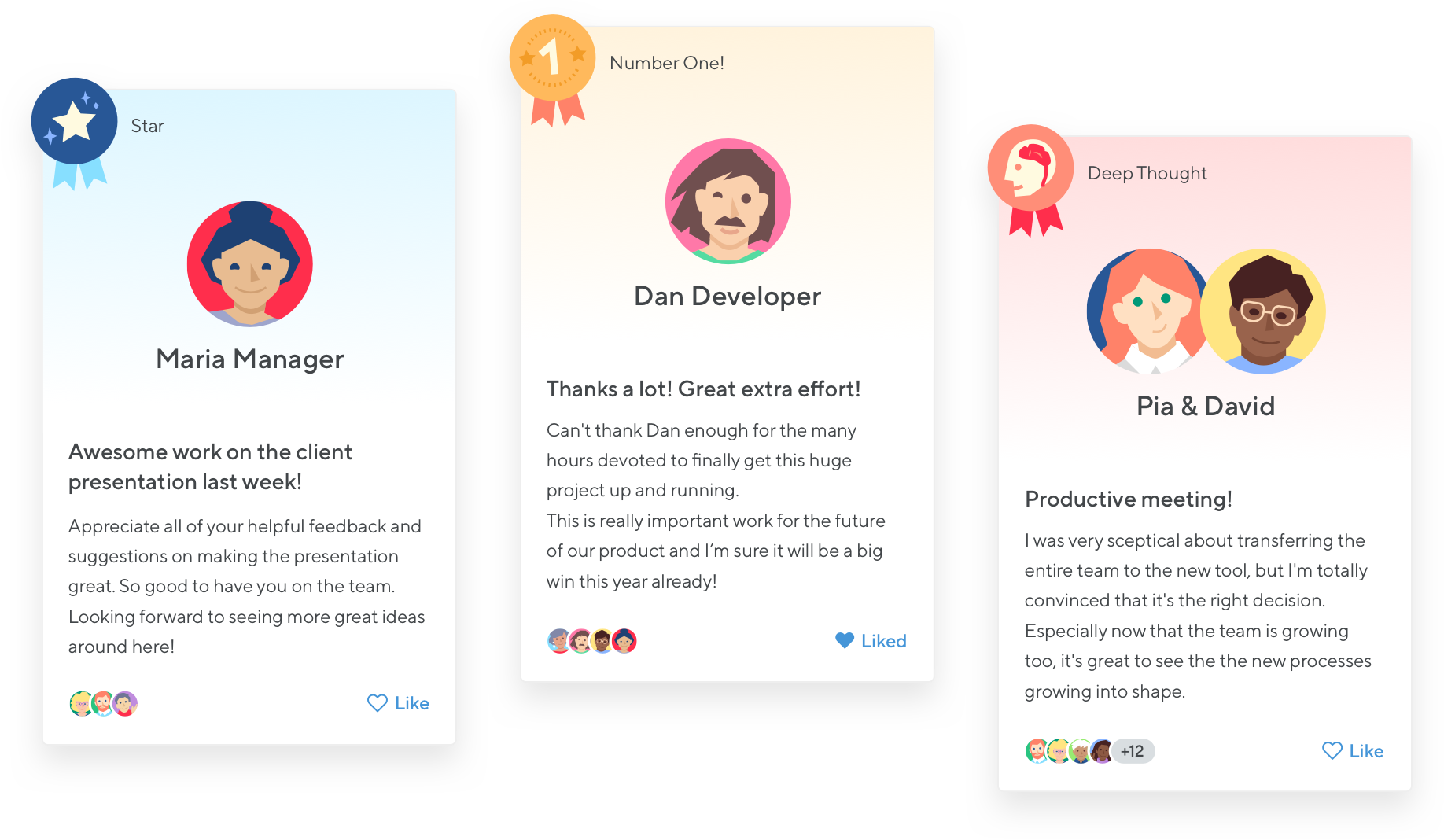 Pulse Surveys
Engagement happens all the time. Gather real-time employee feedback through lightweight pulse surveys.
Track the results of frequent surveys over time to see how your initiatives and changing environment affect employees. Identify issues early on and double down on what's working.
360 Degree Feedback
An employee's ability to collect feedback from their peers is another way to provide your staff with a complete overview of their performance.
And a manager's ability to not only rely on feedback about their reports, but also feedback from their reports, is an invaluable tuning fork for them to use.
Performance Reviews
An opportunity for managers and their reports to reflect on the ongoing feedback offered by peers, plus assess the impact their objectives collaboration has had on the employee's success in their role.
Admins have flexibility in how they define the process. Customize the questions, define who participates, establish a cadence that suits your organization's schedule, and even run different department reviews in cycle's parallel timelines.
Analytics you actually use
See how your team is tracking on participation, performance, and retention with just a few clicks. Clean, interactive graphs and tables make it easy to find the data you need.
Quickly identify teams or employees that might need your attention. Retention Analytics predicts which employees are most likely to leave so you can take action before they do.
Integrated into your everyday workflows
To make performance management ongoing, it needs to be easily accessible and highly visible to staff.
We integrate with Slack and Gmail so your users are always in the loop and can take notes or request feedback easily. SSO integrations remove login hassles, and our HRIS integrations let admins sleep well at night.
You can even stream praise onto a central display for maximum visibility.
Adjusted to your needs
Small Improvements is highly configurable. As an admin you can change and combine building blocks to suit your organization's exact needs.
While we provide structure to save you time and make things easy – You have a myriad of options to choose from when defining your review forms, 360 process, and objectives guidelines.
Want to see it in action?
Watch our 10-minute tour, start your free trial, or get in touch.
Discover more of our product: