Praise
A kind word goes a long way.
Celebrate great work within your organization.
Recognize great work in real-time
A regular habit of recognizing employees benefits morale, team culture, and employee development.
Our Praise feature offers a fun and visual way for employees to give each other positive feedback.
Because who doesn't like a digital pat on the back?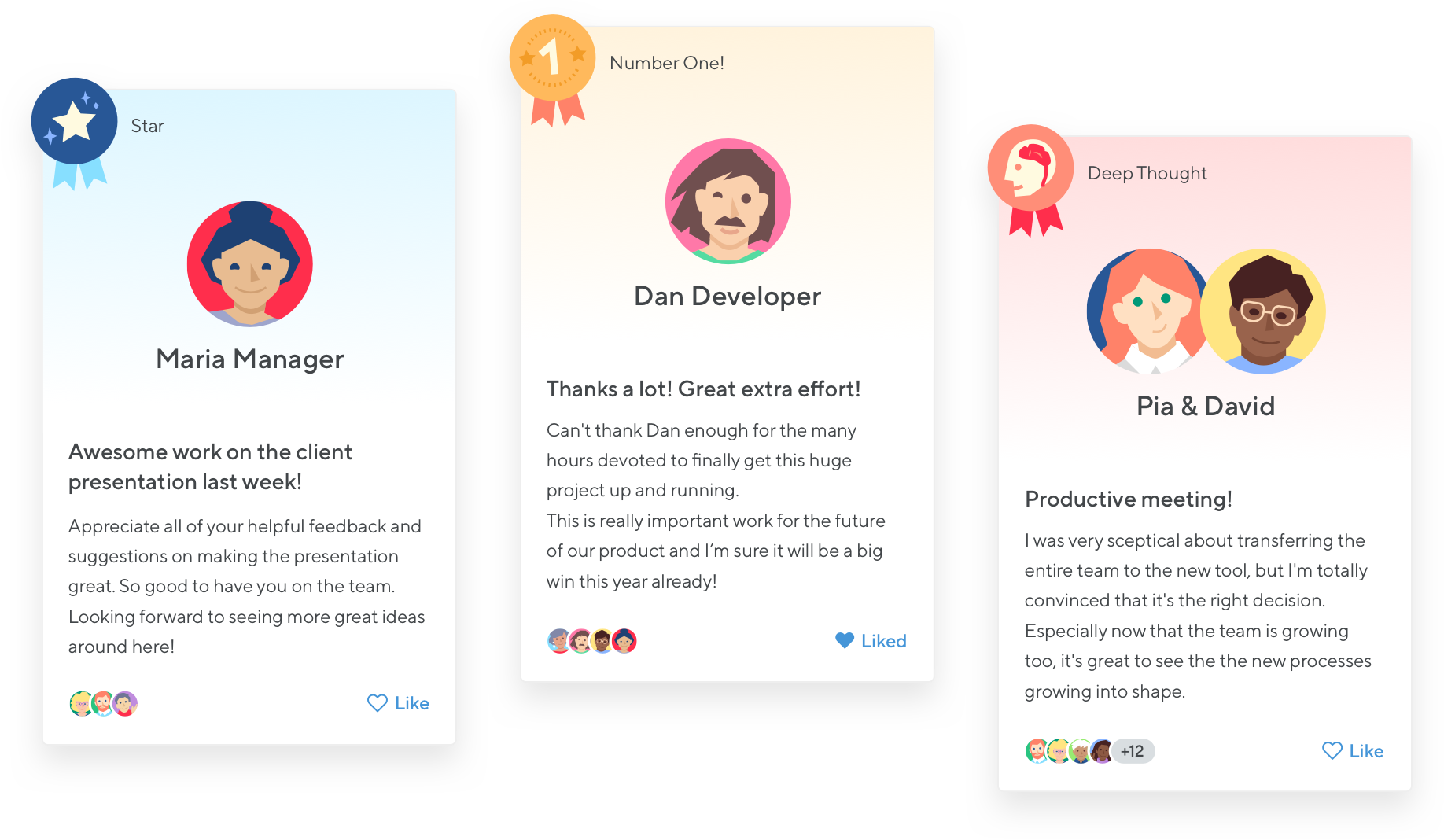 "It's so easy for anyone to write a Praise, and thanks to the Slack Integration it gets shared instantaneously. We always have dozens of interactions with those Praises. This creates a fantastic atmosphere within the team."
Emma Fechney
Talent Business Partner at Door2Door
"Small Improvement's Praise feature allows celebrating employees to be more public. Our Praise badges are tied to our core values, so Praise is all about giving shout outs and reinforcing the values."
Danny An
Head of People & Culture at Influitive
Foster a culture of appreciation
Bring Praise into the real world. Our Praise Wall allows you to display a slideshow of your company's Praises, so you can celebrate your employees' achievements where they can see it.
By showcasing Praise for instance in the lobby or in the kitchen, our Praise Wall helps to foster a culture of recognition.
Make Praise a daily conversation
Our Slack integration collects public Praises and posts them within a designated channel, so the entire organization can instantly see who's being recognized for their efforts.
Employees can also create Praises directly from Slack, making it even easier to recognize peers for a job well done.
Integrate Praise to your workflow
With our Gmail integration, you can easily share Praise from where you spend a lot of your time - your inbox. That way, every "thanks" or kudos is captured in the moment.
Want to see it in action?
Watch our 10-minute tour, start your free trial, or get in touch.
Discover more of our product: