Goals and Objectives
Improvement starts with a plan!
Set goals, ask for feedback, and align your goals with broader company objectives.
Plan for success
Improvement starts with a plan. Whether you want to achieve a professional goal or improve based on performance feedback, our Objectives module is key.
A simple but powerful objective screen organizes all the details about an objective in one place.
Describe your desired outcome, track key results, and update your status to communicate progress.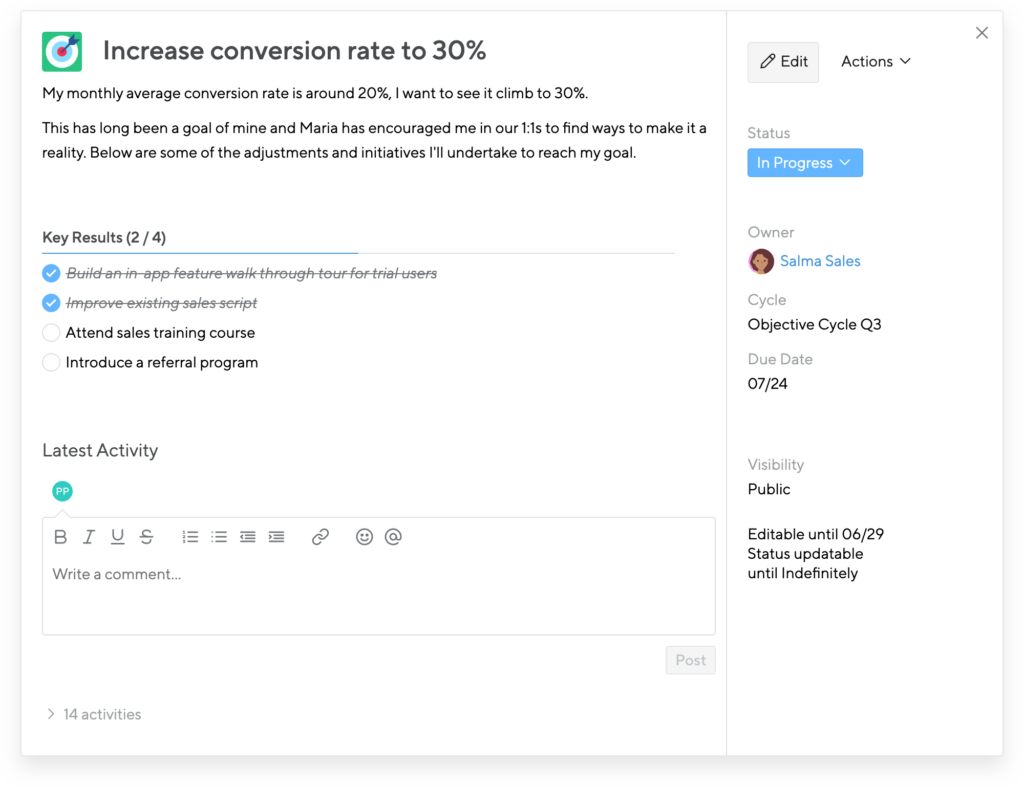 Discuss and collaborate on objectives
Objectives are usually visible to managers, but visibility can easily be expanded for collaboration with other colleagues.
Notify mentors and peers you'd like input, kickstart a dialogue, and adjust the goal in real time. Updates are sent to you via mail or posted in Slack.
Understand everyone's priorities
Want to support a colleague? Just use the browser to quickly find someone's current goal.
Objectives can be filtered by individual, team, or for the entire company. You can then sort objectives chronologically or by person.
Stay up to date on objectives
Use the home screen activity stream to keep up with the objectives your team is creating and updating.
The stream also provides alerts about your manager's objectives and lets managers see progress on key results from their reports.
"Tracking our company goals and Objectives in Small Improvements not only helps us work more collaboratively, but also makes our 1:1 and Feedback conversations simple and efficient."
Katrina Bilella
L&D Associate at Gorilla
"I love how you can track Objectives over time and see what you were able to accomplish. Plus, you can compare those with company goals."
Jessica Young
People Operations Manager at Tint
Configure objectives to meet your team's needs
Your company's feedback process should be as distinctive as your company culture.
Admins can provide guidance and structure to their team's goal-setting process. Do you want a status field or a completion percentage? Should objectives be public by default or private? Should staff assign priority through weighting?
You can configure the settings in Small Improvements to work for you.
Stay on top of objectives with Slack
Get real-time updates with our Slack integration. Once configured, all staff receive immediate updates whenever their manager or direct report updates their objective.
Publicly created objectives will also be served in a Small Improvements channel, so everyone can subscribe to real-time updates about objectives created within the company.
Want to see it in action?
Watch our 10-minute tour, start your free trial, or get in touch.
Discover more of our product: