Regular 1:1 meetings are crucial for managers and employees to stay informed and build a trusting relationship. When used effectively, the 1:1 Meeting is a powerful tool for improving employee engagement, productivity, and retention.
However, new managers often lack the experience of knowing what to ask, and employees may not know what they can discuss in a 1:1 meeting. After talking to the users of our performance management tool, we realized there was a need to provide guidance to help employees have more productive meetings.
That's why we're excited to launch 1:1 Meeting Templates, allowing our customers to provide predefined Talking Points to their team so they can have more meaningful conversations.
More guidance, more structure, more value
Over the past few months, we've interviewed HR professionals and managers for their expertise on how to have effective 1:1 meetings and pinpointed three common use cases for 1:1 meetings: Setting Objectives, Regular Check-In, and Get to Know Each Other. Then we created 1:1 Meeting Templates for each use case.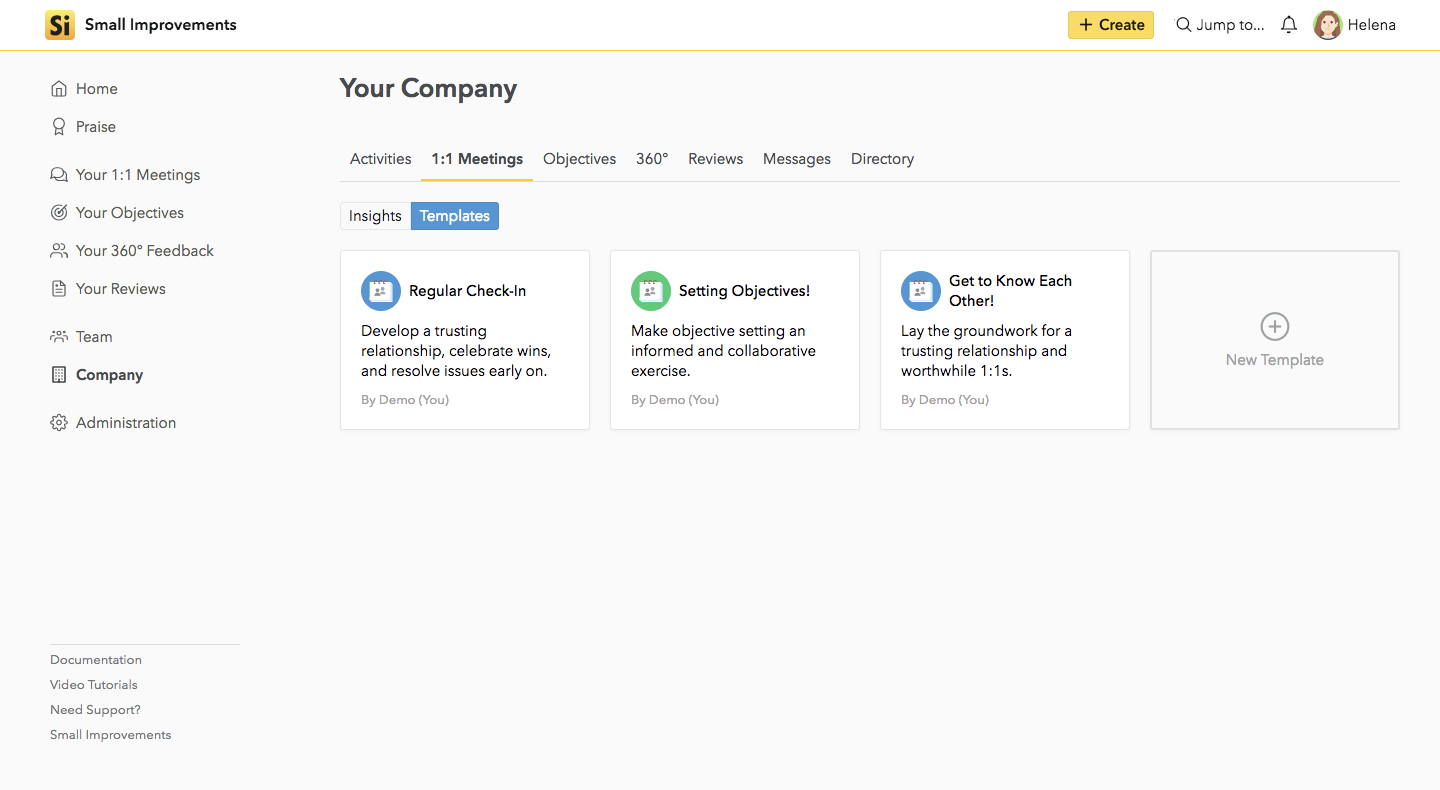 Our 1:1 Meeting Templates come with a set of predefined Talking Points, offering a roadmap for where conversations should go. Setting the agenda not only gives the 1:1 structure from the start, but it also provides meeting participants with more direction on what to discuss.
1:1 Meeting Template: Regular Check-In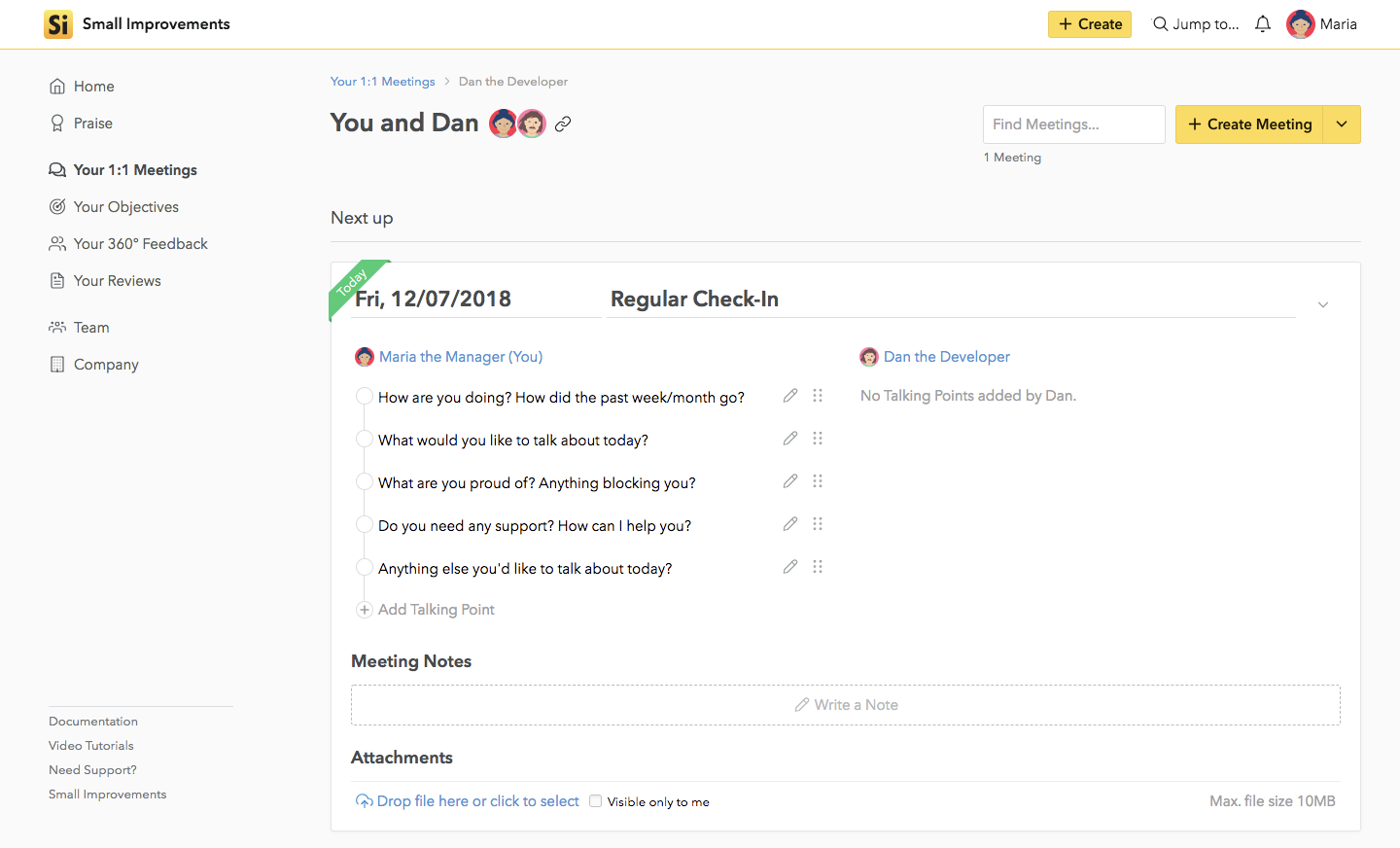 Let's take a closer look at the Regular Check-In meeting template. Here are our suggested Talking Points:
How are you doing? How did the past week/month go?
What would you like to talk about today?
What are you proud of? Anything blocking you?
Do you need any support? How can I help you?
Anything else you'd like to talk about today?
This set of questions is designed to help managers and team members build a trusting relationship, celebrate wins, and resolve issues early on.
In Small Improvements, admins can also configure the templates to fit their organization's needs. The template name, description, and Talking Points are all editable, and you control which team members can access each template.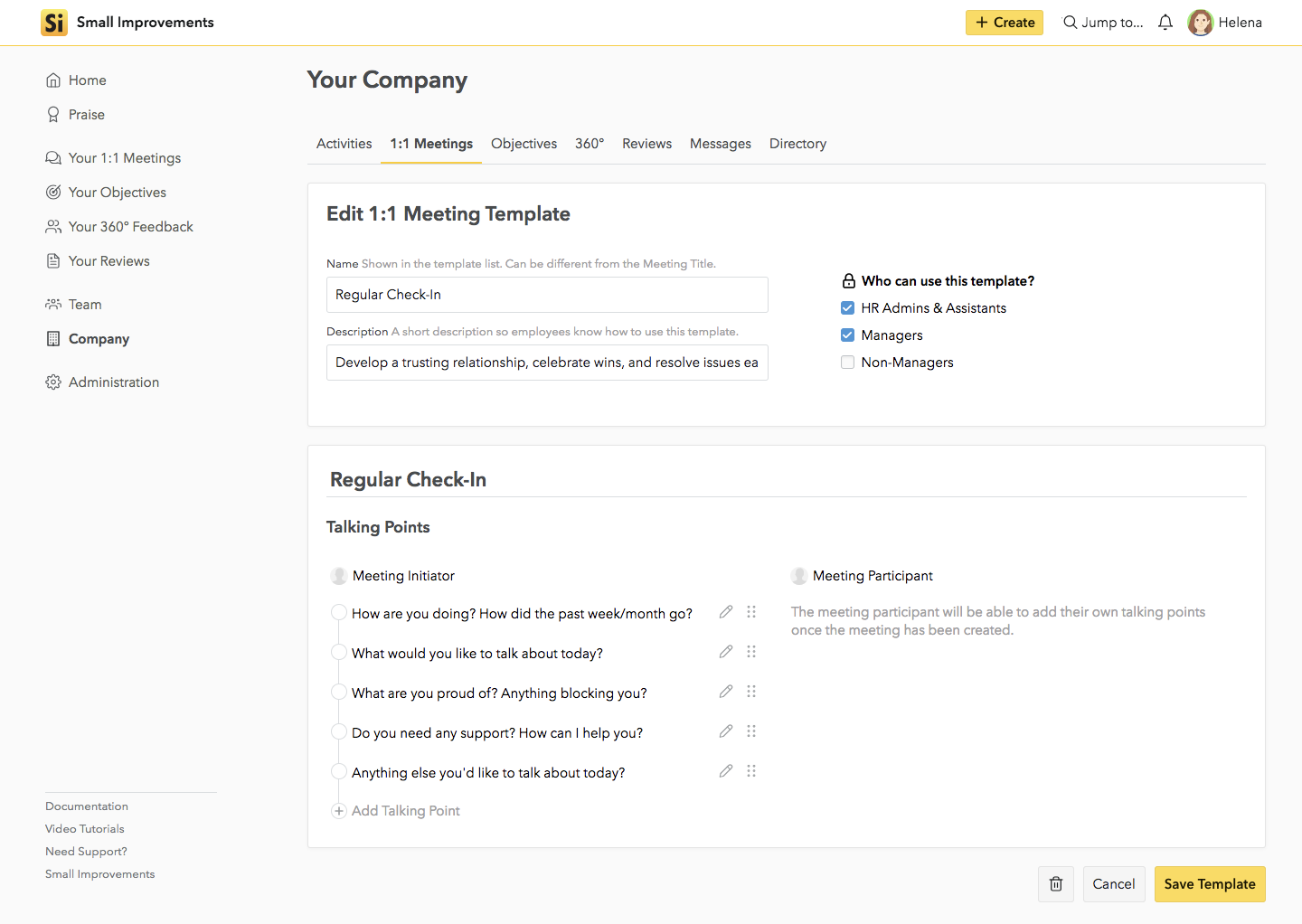 Of course, we recognize that your organization may have unique use cases for 1:1 meetings, so we've made it possible to create 1:1 Meeting Templates from scratch as well. Some of the templates our beta users have come up with include Onboarding Meeting, Personal Development Conversation, and End of Probation Check-In. Take a look at 1:1 Templates yourself to see what you'll come up with! 🙂
Eager to get started?
Learn how you can set up 1:1 Meeting Templates in Small Improvements. Or check out our 1:1 Meeting tool if you're not using Small Improvements yet. We hope you'll find 1:1 Meeting Templates useful in empowering your team to get the most out of their conversations.
Was this post helpful?
Let us know if you liked the post. That's the only way we can improve.