The 1:1 meeting is essential to employee performance and development. It's a powerful tool that allows managers and employees to develop a trusting relationship, address issues in real time, and align on progress. According to a study by Gallup, employees who have regular 1:1 meetings with their managers are three times more likely to be engaged than those who don't.
Although most organizations recognize the importance of 1:1 meetings, ensuring these valuable conversations routinely take place can be a challenge. People Operations leaders can set a meeting cadence for managers and employees but may lack the ability to track whether 1:1s are being held.
It's easy to get caught up in day-to-day work, and oftentimes managers do not communicate with their reports as much as they would like to. But when 1:1 meetings are continuously postponed or missed, it can become disheartening for employees who invest time and effort into their personal development, which in turn, can negatively impact their performance.
We're thrilled to launch today a new 1:1 Insights Dashboard in our performance management tool, designed to improve how People Operations leaders manage and facilitate regular 1:1 meetings.
How do meeting insights work?
With Small Improvements, you can easily access and track all 1:1 meeting activities within the organization in one place. The dashboard comes with powerful filtering capabilities, giving you the ability to segment and visualize meeting data in a variety of ways. Admins can filter across different data points, such as time period and meeting participants, to gain visibility into valuable meeting insights, including:
How often are managers having 1:1s with their direct reports?
Which teams/employees are not having enough 1:1s?
Are important meetings (such as Career Development conversations) happening?
How has 1:1 usage across your organization changed over time?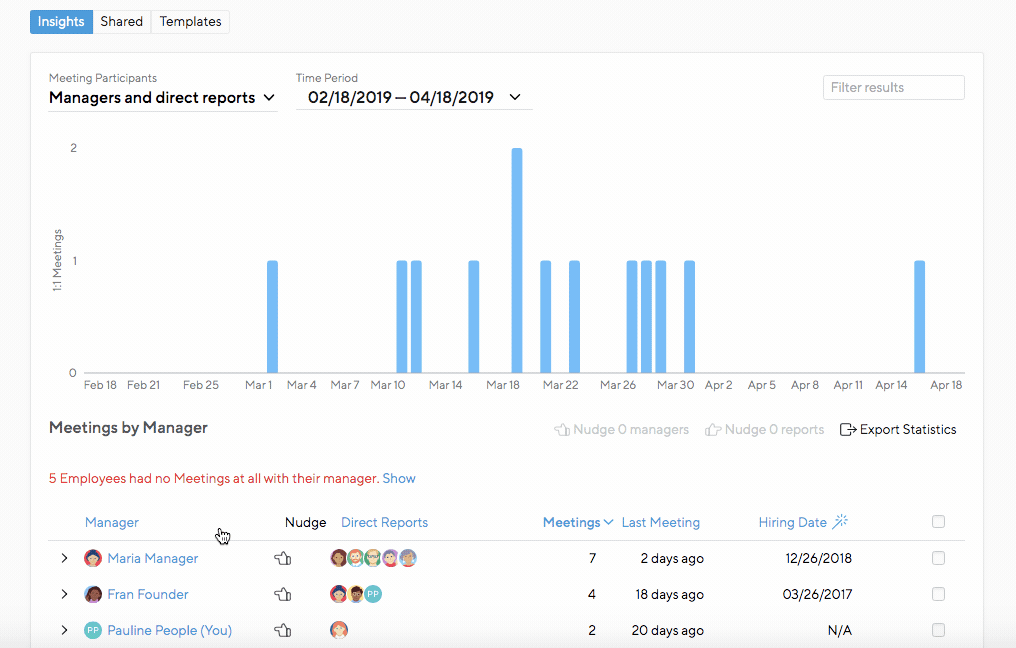 Our meetings graph reacts to the Admin's filtering and interactions with the meetings table, giving you the ability to view any employee's meeting data in relation to the graph total. People teams can conduct comparative analyses between departments, roles, and specific employee pairs over time. This can help organizations better identify potential issues and take more informed actions.
Stay on top of 1:1 Meetings between managers and employees
For People teams, it can be hard to keep track of meeting cadence between managers and employees, especially in larger organizations. That's why we improved our meeting overview to give you greater visibility into each manager and employee's 1:1 meeting metrics.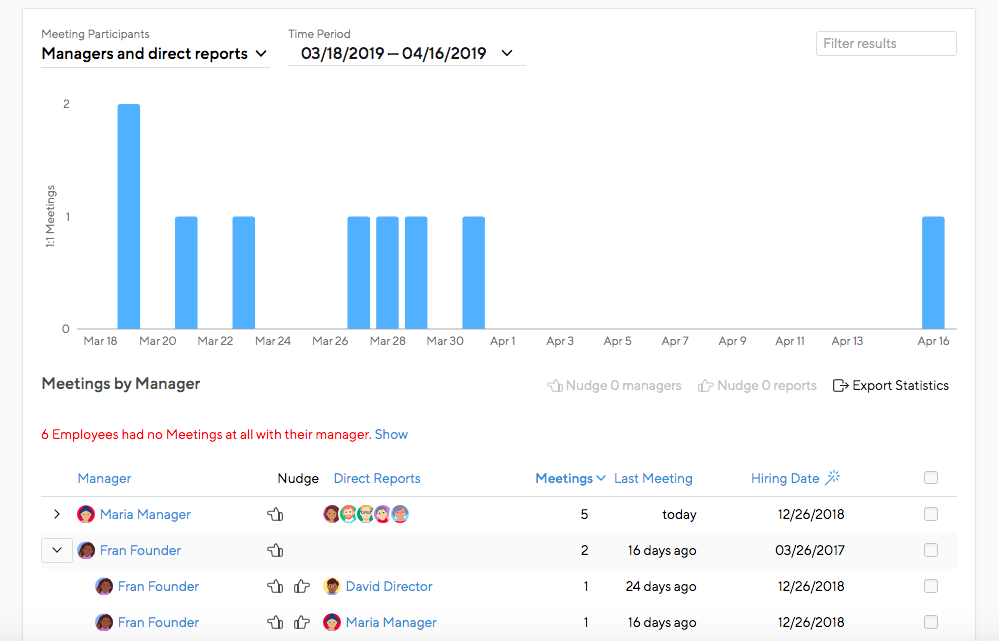 Now, admins can see at a glance how many 1:1s a manager has had with individual reports and when their last meeting took place. We also spotlight employees who have had no meetings with their manager, making it easier for you to identify team members who may need support.
Naturally, managers can access the same meeting overview between themselves and their reports as well. Having these meeting insights on hand enables managers to better keep track of their own 1:1s, which in turn, reduces the amount of oversight from People teams.
Ensure the right conversations are taking place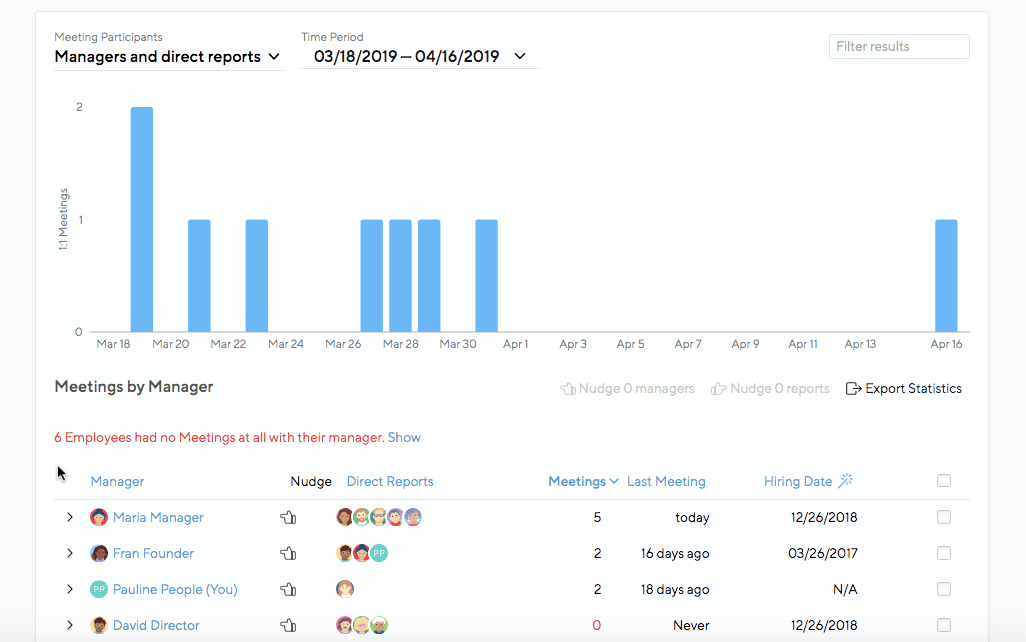 Many of our customers include specific 1:1 Meeting templates such as career development conversations and goal-setting discussions in their performance management process, so we've made it easy for People teams to track whether these meetings are taking place.
With our handy List View, People Operations leaders can access a full history of meetings between any two given people. It's also possible to view meeting contents directly from the list, given the right visibility settings have been granted.
Facilitate ongoing 1:1 Meetings
If your organization is looking to maintain an ongoing 1:1 meeting culture, identifying which employees are not having enough 1:1s is only half the battle. A common challenge for People teams is the lack of an efficient way to enforce routine meetings between managers and their direct reports.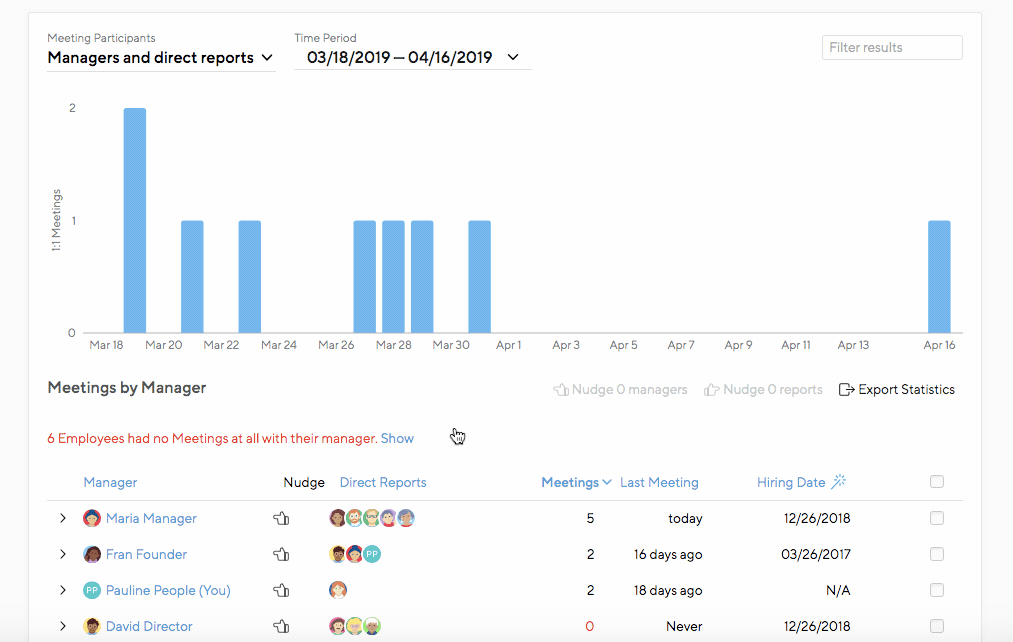 With this in mind, we equipped our 1:1 Insights Dashboard with a convenient nudge functionality, giving Admins the ability to prompt managers and employees to have more 1:1s directly from the dashboard overview. You can also multi-select participants and send bulk nudges, removing the hassle of reminding employees individually.
Small Improvements not only makes it easy to steer team members back on track, but also provides People teams with a powerful tool to drive continuous 1:1s within the organization.
Understand the impact of 1:1 Meetings
There's no denying that regular 1:1s are time intensive. For this reason, it can be difficult to get buy-in from executives and managers without evidence to demonstrate the value of 1:1s.
To help you gain a deeper look at how 1:1s affect the bottom line, we've made it possible to export 1:1 meeting statistics from Small Improvements. Tying meeting metrics with other data sets, such as performance and engagement metrics, can provide insight on the ROI of 1:1s and help organizations better understand the impact of these regular meetings.
You can also compare meeting statistics by quarter, year, or another relevant time frame. Stay informed on your employees' 1:1 usage, identify trends and outliers, and make more data-driven adjustments to your existing people processes. The possibility for analysis is endless! 🙂
Want to learn more?
If you're a Small Improvements customer, you can find more details about our 1:1 Meeting Dashboard here.
If you're looking for a performance management tool, see how it works here.
Was this post helpful?
Let us know if you liked the post. That's the only way we can improve.